2015 Gwangju Summer Games info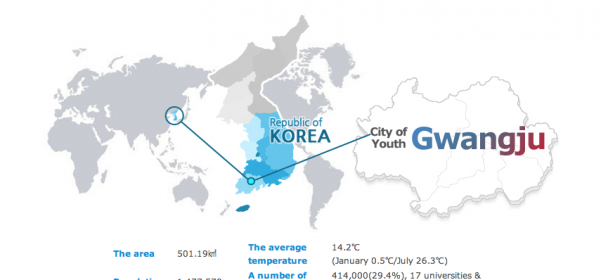 July 3-14th, 2015 – Gwangju City, South Korea
Official Gwangju Website: CLICK HERE
INTRODUCTION
The World University Games is the American term for "Universiade," an international multi-sport event organized for university athletes by the International University Sports Federation (FISU). The Universiade is an international sporting and cultural festival, staged every two years in a different city around the world, representing both winter and summer competitions. It is second only in importance to the Olympic Games.
THE USA TEAM 
The 2015 Summer Games in Gwangju City, Korea will have U.S. representation in up to 21 sports by 550 people which will be, by far, the largest American team in the history of U.S. participation in the Games.  By contrast, the 2013 American team had 400 athletes and staff in Kazan, Russia. The following 21 sports competitions are open for U.S. representation in Korea:
Athletics/Track and Field
Archery
Badminton
Baseball
Basketball
Diving
Fencing
Football (Soccer)
Golf
Gymnastics (Artistic)
Gymnastics (Rhythmic)
Handball
Judo
Rowing
Sport Shooting
Swimming
Table Tennis
Taekwondo
Tennis
Volleyball
Water Polo
AMERICAN SUCCESS AT THE WORLD UNIVERSITY GAMES:
The U.S.A. won a total of 40 medals at the 2013 Kazan Summer Games,finishing 6th in the world. Many now-famous athletes have represented the U.S.A. in previous WUG competitions prior to gaining stardom in the Olympics and professional sports.  These include such elite athletes as Michael Johnson (Track), Charles Barkley and Larry Bird (Men's Basketball), Matt Biondi and Michael Phelps (Swimming), and Lisa Leslie (Women's Basketball).  It will be exciting to see who the next future American star will be from this current pool of U.S. athletes.

ABOUT BTI EVENTS (see: www.btievents.net)
BTI Events is the managing partner for the US-IUSF, the American arm of the International University Sports Federation (FISU). A comprehensive athletic event management company, BTI Events facilitates and provides logistical support for all types of athletic teams traveling to domestic and international events, including U.S. athletes competing in the World University Games (beginning 2011) and World University Championships (beginning 2012). Under the direction of the
US-IUSF, BTI Events will assist U.S. athletes in managing Games and Championships administration, logistics, and information resources.
ABOUT US-IUSF (see: www.usiusf.org)
The United States International University Sports Federation (US-IUSF) is the governing body for the United States and represents all American athletes participating in FISU events.  US-IUSF was granted official recognition by the FISU General Assembly at the 1967 Tokyo World University Games under the original name of the United States Collegiate Sports Council (USCSC).  The USCSC name was changed in 2005 to US-IUSF.  Dr. Gary Cunningham leads US-IUSF membership, and also serves as Chef de Mission for all World University Games competitions.